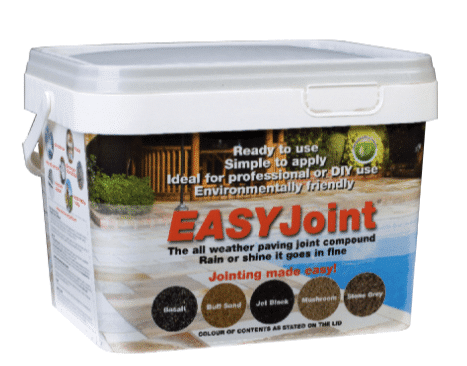 Overview of EASY Joint Paving Compound
We are excited to be a Distributor of EASY Joint Paving Compound! A state of the art, environmentally safe and proven joint compound used in many parts of Europe and now available to the North American market!
EASY Joint is an ALL weather paving joint compound. EASY Joint is a joint material designed to be applied over wet surfaces for natural stone, concrete, clay & porcelain pavers!
Its easy application allows both the creative DIY Hardscaper and the professional contractor to use EASY Joint in joints ranging from 1/8" – 5" wide. For more information call us now at (484)-798-4631 or If you are dealer follow the link below and place your order today!
Benefits
Because EASYJoint is installed wet, it means that you do the jointing of the paving when you planned to (even in the rain)
It improves cash flow getting the paving job done and getting paid without delay. It can be done with a traditional hose and broom or with our Hydro-Broom. 
You can be confident that, provided the EASYJoint instructions are followed, you will have a solid joint that will last for years. 

The use of water while installing protects the paving material from staining or hazing.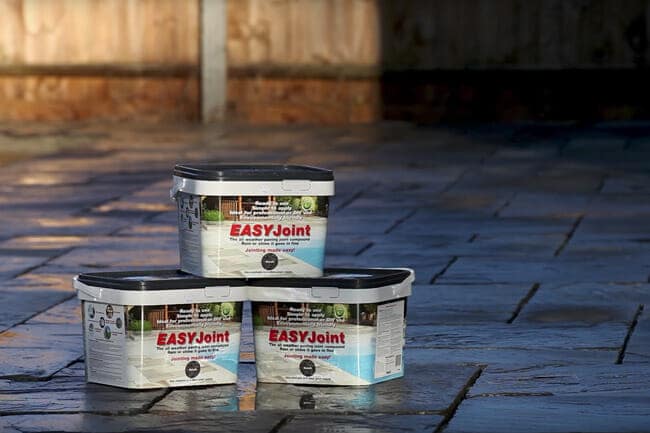 Frequently Asked Questions
What types of products can EASYJoint be used on?
It can be used on natural stone and pavers with a minimum depth of 1" and minimum joint width of 1/8".
What is the maximum joint width for EASYJoint?
The maximum joint width is 5-6" so it works really well especially for irregular flagstone.
What if it rains before it cures? 
Since EASYJoint is air cured not water activated the rain won't hurt it.
How long does EASYJoint take to cure?
Once the water drains out of it, curing will start immediately and it should get hard in 12-24 hours afterwards.
---
Colors
Mushroom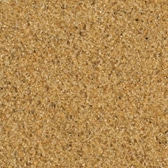 Buff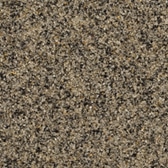 Stone Grey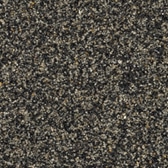 Basalt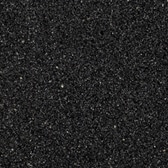 Jet Black
EASYJoint paving compound is available to buy in 5 colors as shown above. Colors may vary slightly due to differences on monitors and may not be a true reflection of the final product.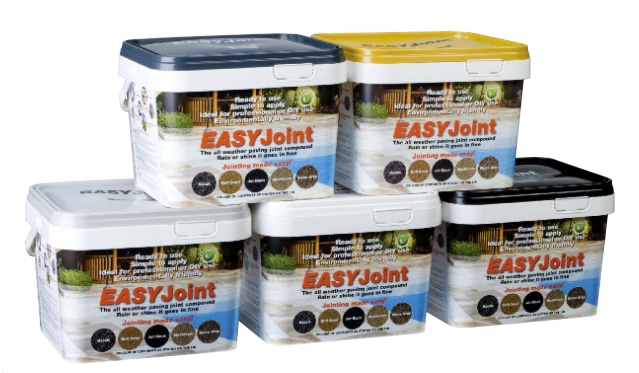 ---
Features of EASY Joint Paving Solution
An all weather jointing compound
A jointing compound that can be used in almost any weather condition even in the rain.
Very fast to use
The use of water to wash and fill the joints between the paving is a breakthrough in jointing methodology. It assists the paving grout to compact into the joints so there is no need to 'strike' or 'tool' the joints unless you want a smooth finish and also makes it very easy to apply.
Technically advanced
Years of research and continuous development of our jointing compound makes this a market leader. We sell tens of thousands of EASYJoint tubs every month throughout the UK, US and in Europe.
No staining or framing
When used correctly and the EASYJoint instructions are followed there will be no staining or framing to the paving. EASYJoint is safe to use with natural stone as well as being ideal for concrete paving. If you make an error however don't worry, the only stain our jointing compound might leave is linseed oil which will disappear and fade over time. Use lots of water when using the jointing grout and any linseed oil will sit on top of it and get washed away! Detailed instructions on how to joint paving with our sweep in sand can be found on this site or in the EASYJoint tub.
No Waste
Opened tubs of EASYJoint, if not fully used, can be kept for later use providing they are covered by a minimum of 2″ (50mm) or more of water. – There is no waste with our jointing compound, EASYJoint is an environmentally friendly product.
---
Click Below For a Step by Step Guide on How to Apply EASYJoint Paving Compound and Watch the Video for Additional Tips and Tricks.
EASY Joint gives you a much greater working window then other joint materials like polymeric sand. It is installed wet! You can now cut wet to eliminate dust, wash your patio off and finish jointing your patio all the same day!
No more worrying about a thunderstorm coming up and compromising your finished product. Easy Joint can be installed in the rain!
EASY Joint compound installation is easy. The compound is washed into the joint by using plenty of water before and during the application of EASY Joint. All you need is a hose, squeegee or broom and plenty of water.
EASY Joint is formulated not to haze or stain concrete or natural stone paving materials. No more dust filling the paving pores and creating a dull lack luster look.
EASY Joint works for joints with widths greater than 3/16" and can exceed joints widths of 5".
EASY Joint is a no waste product. Simply pour the unused product back into bucket and cover it with 2" of water, close the bucket and store it away to use in another project. Unused product is reusable for up to 1 year.
EASY Joint coverage can vary according to the size of the joints in the natural stone, concrete, clay or porcelain pavers or slabs. Contact your local dealer for coverage information.