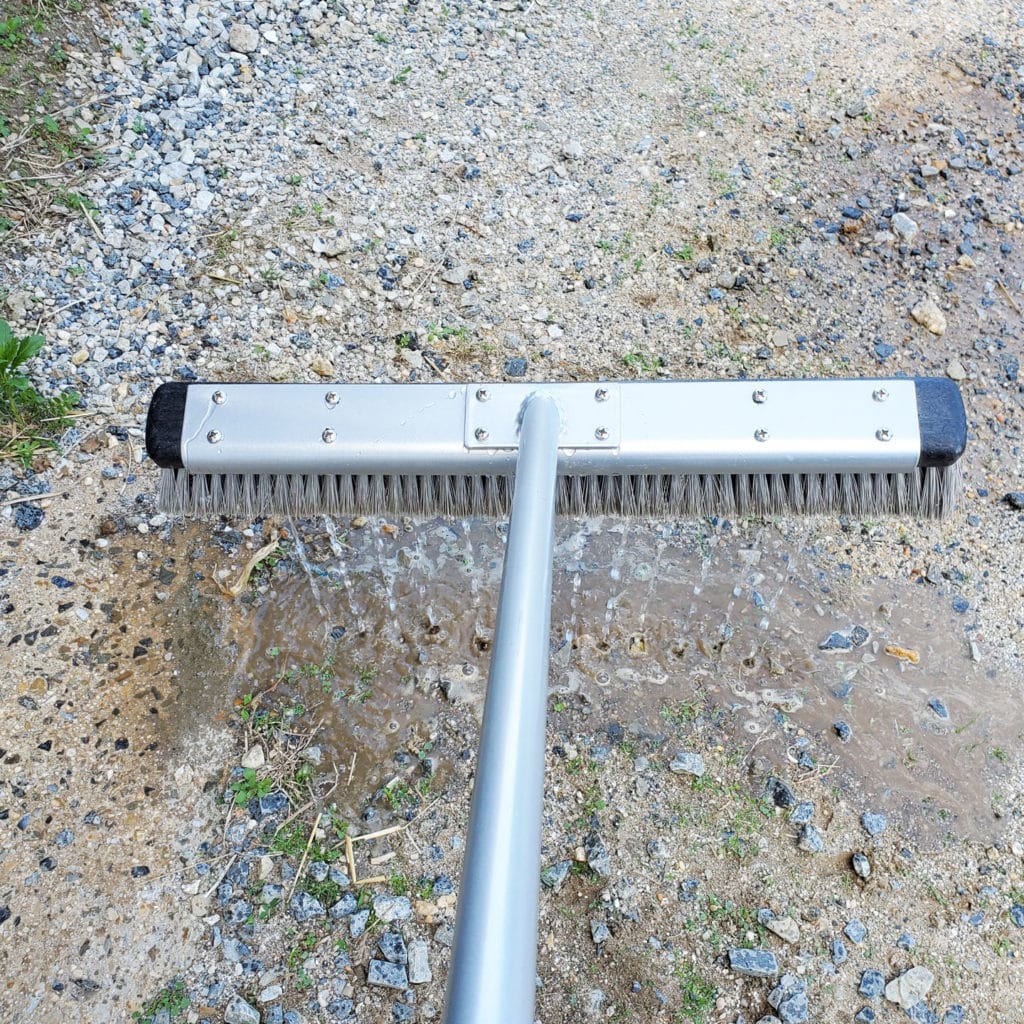 Introducing the Hydro Broom
The Hydro Broom isn't another gadget, it's a specialized tool that turns out to be useful for many other purposes. It's a low-pressure water broom that attaches to a common garden hose. It was created for the EasyJoint application, but as mentioned above has other useful applications.
The Hydro Broom is an innovative tool that was built with the user experience in mind. Homeowners and hardscape professionals alike can benefit from a low-pressure water broom because of its ease of use and productivity. Instead of having a second family member or coworker following you around with a hose while you sweep, you can combine those two jobs into one and cut the work time in half! 
Water Broom For EASY Joint Application
The installation of EasyJoint is made even easier with the Hydro Broom. They go together like peanut butter and jelly. Low-Pressure Water Brooms like the Hydro Broom is the ultimate solution to incorporating EasyJoint into your joint spaces. With the hose connected to the broom, the hydro broom allows the water to go through the handle and spread out through the head, dispersing the water right where you want it. No more extra hands, no more wasting time. You can have your teammate work on something else while you handle the job yourself.
Hydro-Broom Features and Functions
The Hydro-Broom is a very simple tool to use. It's great for homeowners and businesses because of its ease of use and effectiveness. You first start by attaching a water source at the top of the handle of the broom. You can control the water volume with the valve that is attached to the handle. After that, the water flows down, through the broom, and is evenly dispersed at the head. It's a great durable tool that saves time by turning a 2-man job into a 1-man job. 
Are Water Brooms Useful?
Water Brooms are useful for homeowners, landscape contractors, and business owners! The Hydro-Broom lets you take control of water flow to properly clean any outdoor surface. For homeowners, having a low-pressure water broom can be a lifesaver when you have to clean your driveway, patio, deck, or garage floor. 
If you're a landscape contractor, then you know how important it is to leave the site clean. If a mess is left behind, the customer will overlook the beautiful work you've done and focus on the mess. Instead of making clean-up time a slog, the hydro-broom turns this time into an easy job where you can unwind. This may become your favorite part of the job! The water that you control helps you sweep efficiently while keeping things neat. 
If you're a business owner, you know how important it is that your storefront makes a good and lasting impression on a customer. If you have a business on a busy street, keeping those sidewalks and entryways spotless can mean the difference between customers entering your business or going somewhere else. While not everyone cares what your storefront looks like, you don't want to lose any customers. The Hydro-Broom can make this process a lot easier for you! Not only will your employees thank you for making their job easier, but it will also make a positive impression on your customers.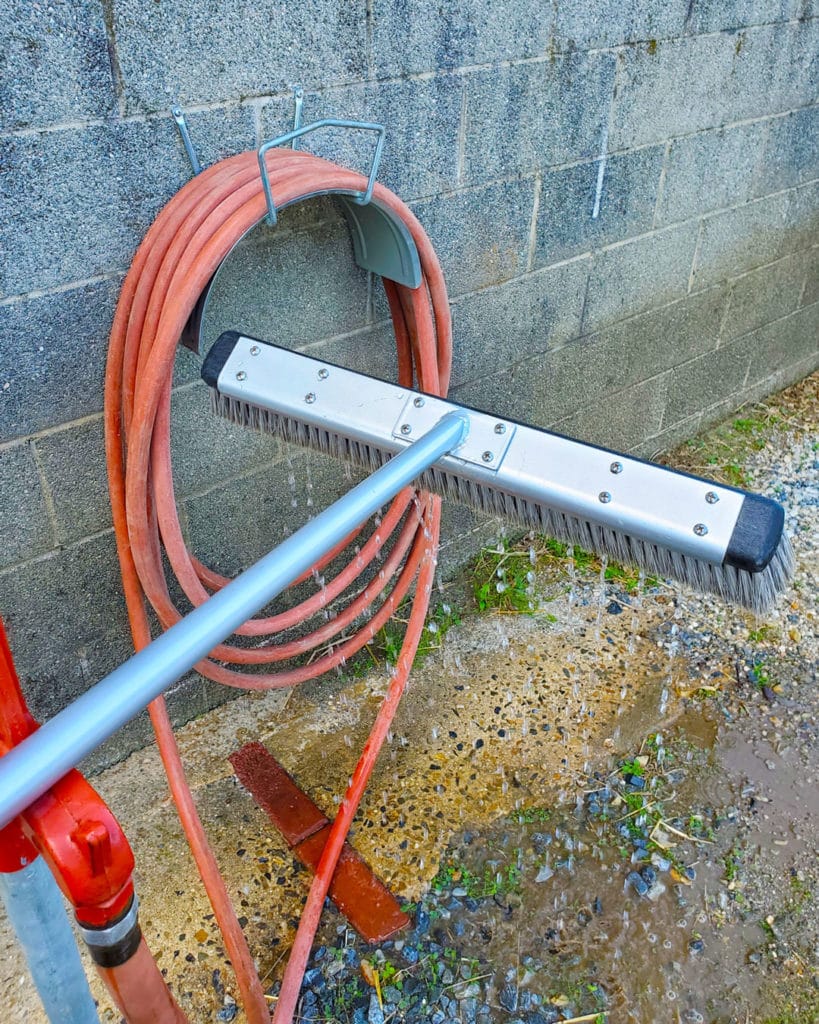 Low-Pressure Water Broom vs Pressure Washers
It's different from pressure washers because instead of blasting a surface with pressurized water, it uses a gentle flushing action, a steady cleaning method that makes less of a mess and is easier to control. 
Recap of the features of the Hydro-Broom: 
Even water distribution along the broom head 

Durable in tough environments

One-piece handle design

Water volume control at your fingertips

Eases the task of filling tighter joints 

Less water splashing in the work area
The main difference between a low-pressure water broom vs a high-pressure water broom is the mess. When you are using a high-pressure broom near the edge of a driveway pavement, mulch, dirt, and grass can get kicked back up and make even more of a mess when you're trying to clean. Low-pressure water brooms can make cleaning easier by using a more gentle and steady action. This way, you aren't creating a mess but cleaning more efficiently. 
In more specific cases, applying EASYJoint is a lot easier with a low-pressure water broom. Using a regular old pressure washer would just blow all of the EASYJoint all over the place. Since regular pressure washers also don't come with brush attachments, you would still be a man down for the job. The Hydro-Broom gets the EASYJoint into the crevices you want, easily and effectively. 
A pressure washer isn't appropriate for certain kinds of surfaces. It can tear through, leave grooves, and remove paint from surfaces unintentionally. The Hydro-Broom is a great substitute in cases like these.
Low-Pressure Water Broom For Cleaning Your Driveway
Unfortunately, our driveways end up being a low priority for us in the long term. They get overlooked and don't get the proper maintenance they need. As a result, our driveways have stains like scuff marks, bird droppings, chalk, etc… The best way to clean up that mess and make your driveway look brand new is with the hydro-broom!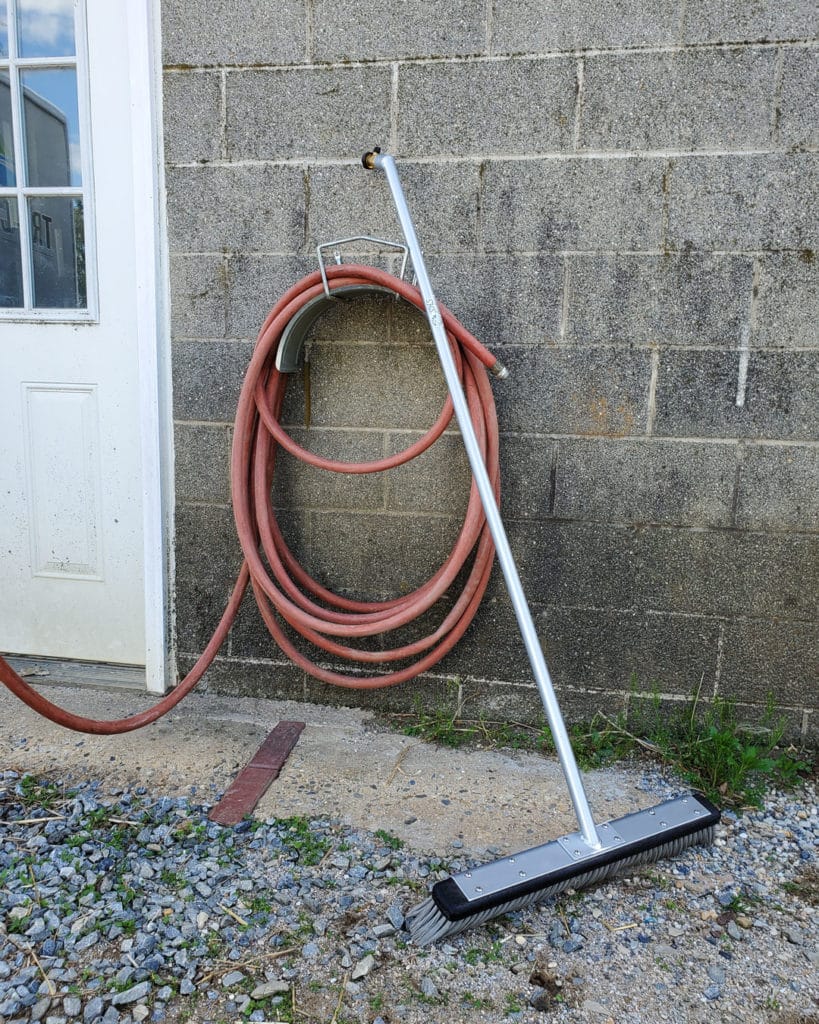 Low-Pressure Water Broom For Construction
The Easy Joint was the reason the hydro broom was created. If you are not familiar with Easy Joint, it is a paving compound that needs to be swept into the joints while it is still wet. Once it drys, it will harden. 
The approach that was used initially was a broom and a water hose. The hose serves two purposes: it kept the paving compound from drying out and made it easier to move it around. So, this would take usually two men, one to scoop the compound from the container, and then he would hold the hose keeping it wet while the other would handle the broom. This was a regular push broom. 
This was fine, but then one of the employees got this idea about a broom that could be used to disperse water while working. After some revision, the Hydro Broom was created.
Hydro-Broom Wholesale in PA
Here at SHS Distributors, we've seen the benefits of the hydro-broom ourselves and want to help others by making their jobs easier! Filling joints and cleaning up are no longer dreaded tasks. You can get them done promptly that won't wear you out because of the help of the Hydro-Broom. To get started with the Hydro-Broom and implement this wonderful tool in your workplace, contact us or find a dealer nearby you!